Sailing Adventures on the Schooner Mycia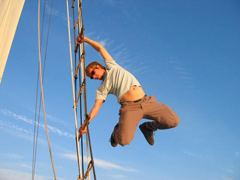 The Mycia is a hand-made, wooden, gaff-rigged, American sailing-fishing schooner, approximately 73 feet from bowsprit to stern. Traditional outfitting mixed with modern amenities makes cruising aboard the Schooner Mycia a unique experience for all ages.
Adventures and excursions in the Pacific Northwest and Alaska are offered by exclusive arrangement with Captain John Maher and Captain Darcey Maher. Routes include the San Juan Islands, the Inside Passage, and Southeast Alaska.
Enjoy a Partial Day Sail or Sail for One or More Full Days aboard the Schooner Mycia.
Custom Cruises: Create some of the best memories of your life while sailing aboard the Schooner Mycia! Adult and family overnight trips include hands-on sailing experience and instruction, three meals a day, and non-alcoholic beverages.
Although sail training and instruction is optional, passengers are encouraged to participate in sailing activities while enjoying the Mycia's classic design and handling.

Custom trips are available for a variety of sailing adventures including bird and whale-watching, weddings, family getaways, scientific studies, secluded surfing, diving, and just about anything else you can dream up. Choose a route with our assistance. Your preferences determine your menu, schedule, and activities.
Special Events: Schooner Mycia offers partial day sails from ports in Bellingham, Bremerton, Port Townsend, and Seattle, Washington and Sidney and Victoria, British Columbia, Canada. See a list of our special cruise dates.

Accommodations: Schooner Mycia offers accommodations for up to six guests. We love families! Children ages six and up are welcome. Please consult us about children under the age of six.
The Mycia's main salon has four upper and two lower bunks with a television viewable from every berth. Our vessel also features a double occupancy stateroom in the forecastle with private above-deck entrance and stowage. There is a single bathroom onboard with a hot shower.

On the main deck, passengers enjoy a mariner's view while soaking in a 100-gallon saltwater or freshwater hot tub! The main deck's pilothouse and galley provides sailors with a great vantage point from which to enjoy some of the world's best scenery while dining on delicious Northwest cuisine.
Weather: Weather is generally mild. May and June are dryer months. July and August are warmer. The wind picks up the most in September and October. Most voyages are a mix of sunshine, overcast skies, and drizzle or rain. The weather in the Northwest is generally temperate, but be prepared for anything!
Sample Cruise Descriptions for the Schooner Mycia: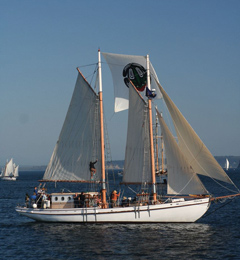 San Juan Islands: The San Juan Islands are the jewel of the Salish Sea. Our route is determined by favorable winds and weather. We will accommodate your interests including hiking on the islands, and visiting cities and harbors suited to your preferences, or looking for wildlife and relaxing. As always, sailing participation is encouraged, but optional.
Inside Passage: The Mycia's transit to Alaska is an adventure of a lifetime. Cruising through the Great Bear Rainforest, expect to see abundant wildlife, soak in isolated hot springs, and enjoy remote native culture. Seasonal coastal cuisine favorites decorate each meal. A hike to a mile-long white sand beach on the fringe of the Canadian coast shouldn't be missed.
Surfing in Southeast Alaska: Too cold for you maybe!? Not with our on-deck hot tub. Rent all the gear you need at Sitka's local surf retailer, or bring your own. Enjoy a delicious meal as we head toward the Pacific coastline of Mount Edgecombe, a dormant volcano off Baranof Island. The Mycia anchors out while you're skiffed to surf breaks only the locals know about.
Sitka to Juneau: After watching whales in Frederic Sound, we're off to view Alaska's unique tidewater glaciers through neck-achingly steep fjords. This experience won't last forever and should not be missed by any generation of traveler. The Tongass National Forest gives this region its lush terrain and cascading falls. Our sailing adventure starts in Sitka, the historic Russian-American capital of the state, and ends in the busy commercial district of Juneau, today's capital city.
Contact us now or join our mailing list to keep informed of new sailing adventures.

Making Reservations for Sailing Aboard the Schooner Mycia
• One or More Full Days: Charter the Schooner Mycia for a total of $800. per day to secure passage for one to five people. Or, choose a discounted rate of $930. per full day for a group of six passengers. We also offer special per person pricing for some special events. Contact us for more information.
Have a great time and make treasured memories! For families, groups, couples, friends, up to six sailors.
• Partial Day Sails of two to three hours aboard Schooner Mycia are $55. per person. Sail with Schooner Mycia from various ports in Washington and British Columbia during the summer sailing season (see our Cruise Dates list above.
Payment for reservations aboard Schooner Mycia is made with a credit card, debit card, checking account, or PayPal balance via PayPal, the worldwide leader in secure, online payments. After making payment, PayPal will direct you to a "Thank You" page in our SailMycia.com web site.
♦ ♦ ♦
• SAILING ONE OR MORE DAYS: Make reservations to sail aboard the Schooner Mycia with your deposit of $200. per full day. The balance of $600. per day (up to five passengers) or $730 per day (for six passengers) is required no later than 30 days prior to departure. If needed, we'll send you a reminder requesting final payment.
Please use the drop-down menu below to indicate the number of people for whom you're making reservations (one to six passengers) and use the text field to request you desired sailing dates.
Two or more days of sailing? Adjust the quantity in PayPal after clicking "Buy Now".
Upon receipt of payment, we'll contact you to confirm details, provide additional information, and plan your sailing adventure. We also invite you to contact us whenever you have any questions.
♦ ♦ ♦
• PARTIAL DAY SAIL: Make reservations for a special partial day sail aboard Schooner Mycia with payment of $55. per person. Use the text field below to request the date of your Partial Day Sail.
Reserving for more than one person? Adjust the quantity in PayPal after clicking "Buy Now".
As soon as payment is received, we'll contact you to confirm your reservations and provide additional information, including departure times and locations. Or contact us with your questions and concerns.
Cancellation Policy: If, for any reason, SailMycia cancels your trip, or is unable to make reservations for your requested cruise, 100% of your payment will be refunded!
Refund Schedule (if you cancel your trip):
90+ days prior to departure - 100%
89-60 days prior to departure - 75%
59-30 days prior to departure - 50%
A refund will not be issued if you cancel your trip less than 30 days prior to departure.

Setting Sail: We'll contact you to discuss details and confirm plans upon payment for reservations. When sailing for one or more full days, we usually meet at the dock at 9 a.m. on the day of your departure. For non-transit cruises, Schooner Mycia usually returns to the dock at 6 p.m. on the final day of your sailing voyage - weather and tides permitting. Times vary for special partial day sails.
Travel Insurance: We recommend both travel and trip cancellation insurance for those unexpected emergencies that life brings. Contact your travel agent or insurance agent for more information.
Privacy: SailMycia values your privacy and will not sell, lend, or share your personal information without your explicit permission.

Have a great time and make treasured memories. For families, groups, couples, friends, up to six sailors.
See lots of photos from our previous sailing adventures and signup for our Mailing List.
Contact Us to ask questions, discuss ideas, and make plans. Sail Aboard Schooner Mycia!